Cloud learning guidelines
The Guidelines below provide all necessary information that you need during learning in the modules. Please read it carefully before start. This is particular important when you are new to e-learning and attempt our e-learning module at your first time.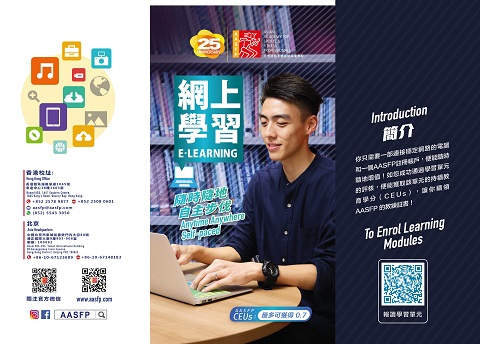 If you want to enrol e-learning modules, visit here.
1. Taking the e-Learning Module
This part describes how can you start, answer the questions and submit a module.
Start e-learning module learning
At detail page of a module, click [Start] button to begin. The "Remaining time" will show at the top-right-corner throughout the module.
Answering questions
Starting from the first question, choose your answer, then click the [ > ] button to proceed to next question. To change the answer of previous questions, click the [ < ] button. If you want to skip the question(s), just press [ < ] or [ > ] without answering it and go to the next question. The system will pop you about all unanswered questions (if any) when you submit the module. However, all unanswered questions will be given no mark. Hence, you are strongly recommended to answer all questions.
Submitting e-learning module
You can submit the module by clicking [Submit] button when you visit the last question. 
Please double check all answers because you cannot change them after the submission is confirmed.
Intermit exit and resume learning
You can leave the module temporarily if you cannot finish in one continuity. To leave it, click [Save & Exit] at the bottom of the page. The system will save your answers and let you exit the module. You can always resume learning by clicking [Start] at detail page of your unfinished module. Please note that the elapsed time will NOT be recovered and it will resume countdown when you re-enter the module.

2. Assessment method
There is a set of Multiple-Choice question (MCQ) attached to each module. Base on learning materials provided (e.g. video clips), choose the best answer out of the choices. The number of MCQ may vary between different modules depending on the length and number of video clips provided. While you are learning in the system, you can answer the MCQ at the same time. 

3. Test duration
All e-learning modules are time-limited. It varies depending on the amounts of learning materials provided. Please refer to individual module for their specific test duration. When time is up and the module is still not submitted, the system will save all your answers and submit it for you automatically. Therefore, DO NOT leave your computer/module unattended to avoid mis-submission araised from unexpected circumstances. To have a smooth learning process in our learning platform, we advise you to perform it in a computer with stable internet connection and being undistracted. We assume the submitted module is on your own accord.

4. Enrolling an e-learning module and start learning
After successful payment is made, you should receive a notification email where you can find hyperlink to access the enrolled modules. At the same time, the new module will appear in you "My e-Learning Module(Paid)" instantly. You can start learning the module at anytime you wish; and can always continue it when it is not submitted yet. However, you cannot start/continue when it is unpublished or closed. Therefore, please pay attention to "Closing Date" of individual module at its detail page in order to avoid forfeiting your right to finish it.

5. Passing score(%) and CEUs awarding
Passing score is set at 60% of the total scorable mark. Detail page of each module will denote its required pass-score. CEUs will only be awarded when you passed the module, and each module can be attempted once ONLY. That means you cannot re-take the same module if you failed at the first attempt. 
Our system will update CEUs(if given) to your student account upon completion. Hence, you do not have to report/send the module result to us for this.

6. Result announcement
Result will be announced immediately after you have submitted the module. This will include your score, the total scorable mark and a pass/fail notice. You are advised to print/save this result notice for your record.

7. Copyright issues
All rights reserved. No part of e-learning module content including but not limited to the multimedia files, examination content and test results can be reproduced or transmitted in any form or by any means, including photocopying, scanning, electronically archiving and/or through social media channels without written permission from the AASFP. The AASFP reserves the right to take legal actions to those parties who have unauthorized use of the copyrighted materials. Students who perform the learning modules are obligated to observe the regulations above mentioned.